Our newest car - New York Central 4331
Our railroad line was part of the great New York Central Railroad. We are very proud to receive a real, historic coach from the New York Central.
Help us move it! Donate to the Fund to move the car. Click here to donate.
The last of its kind
This car was built in 1929 and ran from New York's Grand Central Station north to Croton-Harmon, along the scenic Hudson River. New York City had strict smoke laws, which required railroads to electrify. This coach has the special equipment to propel itself. This unique ability meant the car was kept in service quite a long time. 353 cars were built, and three survive - but only this car has its control and electric equipment largely intact.
New York Central merged with the Pennsylvania Railroad in 1967 to make Penn Central, and the car continued in service as Penn Central #1291. The car continued in Penn Central service well into the 1970s, and we received the car still in Penn Central paint. We will be restoring it to the New York Central scheme above.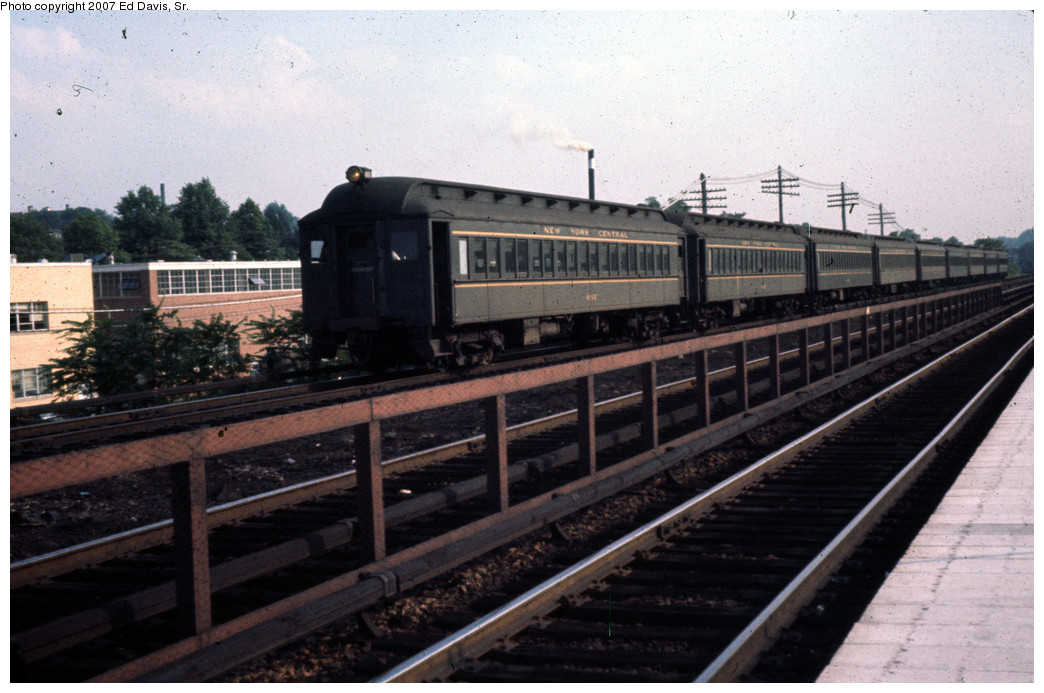 In the glory days.
A storied history
After service on NYC and Penn Central, many of the cars were sold to a scrap company. It was then purchased by a lumber and siding manufacturer in Indianapolis. They did not modify the car, but used it to display their products, simply by laying samples across the car's seat backs.
The car was then purchased by the Carthage, Knightstown and Shirley Railroad, a for-profit tourist railway. It operated among those towns about 50 miles east of Indianapolis. The national railroad system had shrunk greatly and they had lost their rail connection - they were "landlocked". So they had to move the car from Indianapolis by truck. The railroad crew, led by owner Tom Allison, accomplished the move themselves. They removed the steps, jacked the car up with simple bottle jacks, rolled out the trucks, and rolled in semi-trailer "bogeys".
CK&S used the car occasionally on its more popular trains. The 1960s-era "Penn Central" paint remained on the exterior. The interior was not restored, but cars which are regularly used tend to stay in better shape than cars which are parked for many years.
A challenging move
When CK&S suspended operations, the Friends of the Southern Michigan Railroad made an effort to buy the car. But the car is so large that it proved quite a challenge to move! Neither SMR nor CK&S is connected to the national railroad network, so the only option to move the car was by a rather large truck. The car had to be lifted off its own wheels by two cranes, and in Clinton landed back on its wheels by one gigantic crane! Total car weight is 130,000 pounds, or about the same as a Boeing 757. The undercarriage - or "trucks" - were hauled separately. The cost of this operation was several times the purchase price! Please help support the cost of moving it!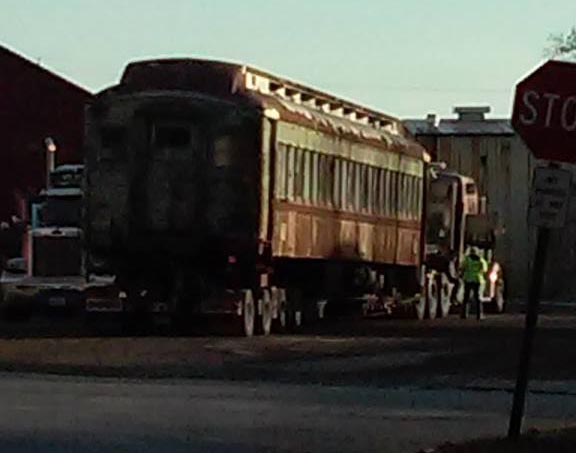 Just arrived in Clinton, and waiting to be unloaded.
Restoration
While the car has great bones, it needs cosmetic work. Mostly, it needs exterior paint, some bodywork and some interior panels and paint. What you see is the last vestige of the paint applied by the Penn Central Railroad in the 1960s. That will be replaced with "new, old" New York Central paint in the classic Pacemaker Green, with gold trim. The New York Central was a class act. Be one too, by donating to the project.
The interior is in worn but acceptable condition, and we were pleased to find the original New York Central era rattan seats. Many of the seat covers need work, but rattan is a good (though expensive) material for seats since it is cool in summer. It is rarely seen in railway use today, except in historic restorations.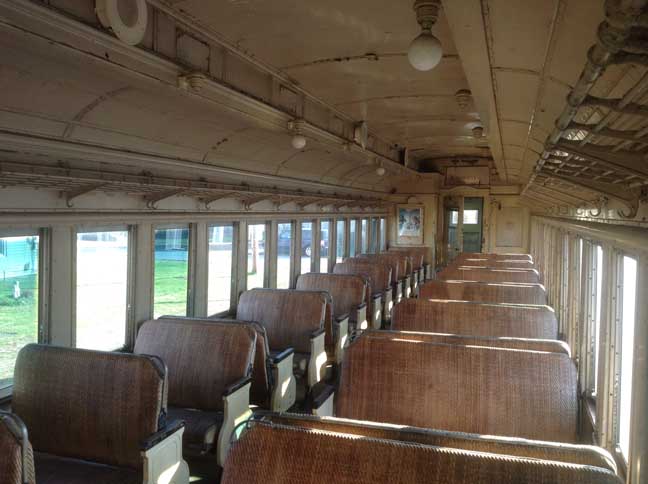 A sunny afternoon lights the unrestored interior.
This car arrived with the aid of our partner organization, the Friends of the Southern Michigan Railroad.
Help us pay for the move and restoration! Scroll down to donate.
See also our South Shore car #1, New York Central bay window caboose, and our open-air gondola.
Donate here
You are donating to the Southern Michigan Railroad Society via PayPal.
All donors get notice before everyone else when 2017 Fall Color Tour tickets go on sale. (still expected to sell out). Donations at certain giving levels also receive a gift.
$55 giving level - a voucher for 2 regular tickets on summer trains or Clinton Fall Festival
$100 giving level - a voucher for 2 regular tickets on all trains* including Fall Color Tours
$200 giving level - a voucher for 4 regular tickets on all trains* including Fall Color Tours
$1000 giving level - 20-ticket voucher*, plus a plaque at a double or triple seat, identifying you as a donor.
Your gift is 100% tax deductible, except the value of tickets. You may skip tickets if you wish to keep the full deduction.
* comparable to any trains we've run up through 2016. As a formality, we must exclude potential future high-cost trains, such as a dinner train or excursions on other railroads.