Memorial Caboose #21692
For the Santa trains, you can reserve the entire caboose! Check the schedule for what is available on your run.
This caboose was originally built for the New York Central Railroad shortly after World War II. New York Central merged with the Pennsylvania Railroad to make Penn Central, which was folded into Conrail in 1976, and from whom we purchased the caboose. Penn Central Green and Conrail Blue can be seen peeking out from under the museum paint.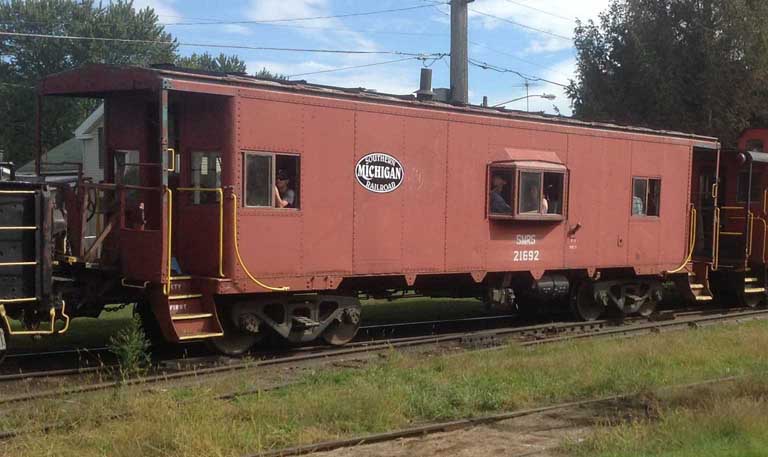 It is called the Memorial Caboose in memory of our life member Ernie Jeschke, who was instrumental in starting and maintaining the Southern Michigan Railroad. It is being restored into the later New York Central "Century Green" paint scheme, similar to this other caboose.
Accommodations
You can ride in this caboose on most of our trains. It has several groups of seats, all in front of windows. For the Santa train, we don't get very many couples on the Santa train, so we're combining seat group A with B - you get the whole end of the caboose. Likewise with groups E and F.
For a closer look at any of the seats, click right on the image on any seat group.

You may see some other seats in the caboose. Those are not for sale because they are not in front of windows. They are for special events or to "rescue" folks in the open-air car in the event of a rainstorm.
See also our South Shore car #1, and our open-air gondola.