Chicago South Shore #1
Many of our passenger trains include this car. It can now be reserved in advance, with refunds for bad weather.
This car is from the last of the electric interurbans - a thick network of "high speed rail" trolley lines which covered the Great Lakes states. It ran on the Chicago South Shore & South Bend Railroad, and really was its Car #1. It was built in 1926 as one of the most deluxe and advanced interurbans of the age. The South Shore did not modernize this car because of its historic significance. We have removed a more modern roof meant to support pantographs, so you see the car not far from original - replete with irreplaceable woodwork.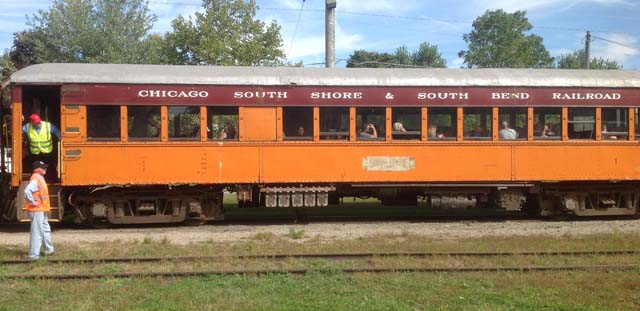 The South Shore Line was the only interurban railroad to survive past 1965 - the Michigan lines folded in the 1930s. This car ran until 1982 when the South Shore received new "Nippon Sharyo" cars, which carry people today, from South Bend Airport to downtown Chicago.
Accommodations
This historic coach has bench seats. Some are meant for 2 people and some for 3.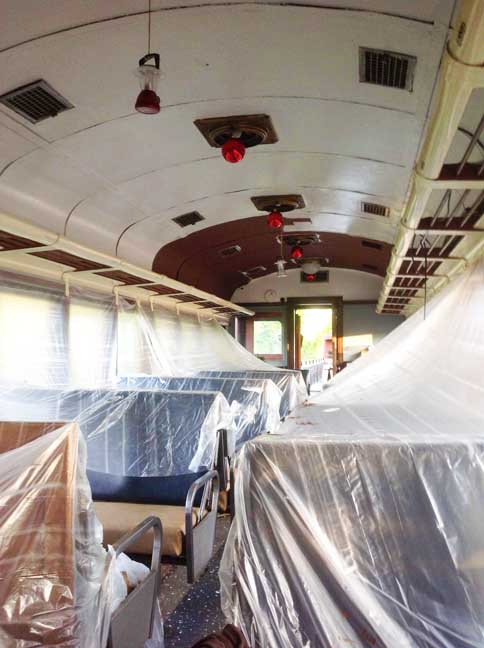 Here you see the car having its ceiling painted. The open-air gondola can be seen through the far door. Beyond that is the Memorial Caboose.
The historic bathrooms cannot be used - they're a little too historic!