The ever-changing COVID-19 situation may result in changes to capacity or schedule. We strongly recommend people plan for an earlier summer ride, so you don't end up disappointed if rules are tightened! We must comply with all county Health Department, TSA and FRA regulations.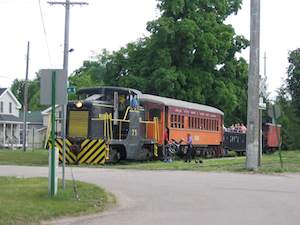 It's the biggest festival in Lenawee County and our Train Ride is just a few blocks away! There are arts and crafts, food vendors, car and tractors on display. Plenty of outdoor music and lots of childrens events and animals. Don't forget the Sunday afternoon parade! Learn more about the Clinton Fall Festival here or check out its Facebook Page.
Ride the train from Tecumseh - and visit the festival.
You can board the train in downtown Tecumseh. Ride the train to the Clinton Fall Festival and return on a later train.
Our trains run on Saturday and Sunday.
We recommend to reserve in advance online. You can also walk-up, space allowing.
You book in the car you ride in. The open-air car is refundable for weather - so if you want to reserve your seat and still cancel for weather - book there!
Location
Departs Downtown Tecumseh at Evans and M-50 (Chicago Road). For your GPS, set navigation to 112 N Evans Street. Board on the sidewalk in front of the Quilt Patch!
Check with the office about FLAG STOPS along the route where you might board.
Dates
2019 Dates: Saturday and Sunday, September 25 and 26
Times
From Tecumseh: SEE TICKETING PAGE
Fares
Adult: $20
Youth: $10
Senior: $15
Plus $1 for online booking
Seats in the open-air gondola only are refundable for weather - either rain or temperatures under 50 at train time. This can be either actual weather, or that expected in the 24-hour forecast as of 24 hours prior to train. (we don't allow cancellations based on farther-out predictions, because they are so often wrong in Michigan). Call or email for refunds starting 24 hours before, and ending 48 hours after train time.
---
Our Clinton Parking Lot will be open during Friday, September 24 for the festival. No train rides on Friday.
Park in our Clinton passenger lot for $5.00 all day. If you ride the train that day, you get it back! Pay the attendent upon entering at Clark St. at Division, Clinton, and take your $5 off voucher. Space is first-come first-serve for everyone, and because of limited space we cannot guarantee space in advance or for our riders. There is parking all over Clinton.