2021 Fall Color Tours are back!
Hang onto your hats! The ever-changing COVID-19 situation may result in changes to capacity or schedule, or to the city's Appleumpkin festival. We strongly recommend people plan for an earlier summer ride, so you don't end up disappointed if rules are tightened! We must comply with all county Health Department, TSA and FRA regulations.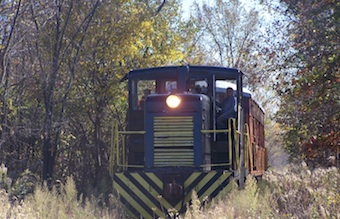 Board in Tecumseh. Ride to Clinton.
Color Trains return to their longer route this year. Enjoy a ride from historic downtown Tecumseh, along the Raisin River valley to our shop facility at south-side Clinton, and return. Cross the Raisin River on a trestle, and enjoy views of the Red Mill Pond, recently opened up by our crews.
The event runs most weekends in October. The October 9-10 runs are in the middle of the Tecumseh Appleumpkin Festival - and those seats go fast!
Choose your coach
As always, you book the car you want to ride. We are offering the open-air gondola car, with great views and no roof (fully refundable for weather). And the fully enclosed Memorial Caboose which will now be available for individual ticket sales. Also keep an eye for the smaller "New Haven" caboose which may be offered as well!
It's the easiest way to pay with a credit card and assure you a seat. But don't worry, you can walk up too! Tickets will appear on your credit card statement as Fareharbor.
Details
DATES: October 9*, 10*, 15, 16, 23, 24, 30, 31
*These dates leave amidst the
Appleumpkin Festival.
TIMES: 10 AM, 1 pm, and 3:15 pm

TRAIN FARES: $20 adult, $10 Youth, $15 Senior, + $1 for online booking.

SEE ALSO: the TECUMSEH AUTUMN TURN, our alternate fall train.
PARKING: Go around the block. There is plenty of parking behind the businesses in all four corners of downtown, and plenty of street parking in those blocks.
RESERVATIONS are strongly recommended. Please use our Reservation form. Tickets will appear on your credit card statement as Fareharbor, a company which makes online ticketing possible for us.
Seats in the open-air gondola only are refundable for weather - rain or temperatures under 50 at train time - whether actual or expected in the next-day weather forecasts. One refund per customer per season - do not book multiple dates. Call or email for refunds within 48 hours of train time. You must wait until the night before, but we recommend you hold off final decision until the morning of, due to Michigan's ever-changing weather. Or you can wait until train time. You can even come to Tecumseh and play it by ear -- the shops, antique stores and restaurants make a delightful plan "B". Just make sure you contact us within 48 hours AFTER train time.
RESERVATIONS: Go to our Reservations Page to book in advance. Tickets will appear on your credit card statement as FareHarbor.
Sold out? We are working to add capacity. Join our email list for the latest news on that.
MOBILITY CHALLENGED persons: It is not possible to pull a car directly up to the train. There are handicap spots within 200 feet of the train, but those are shared with other downtown businesses. See our accessibility page for more info.
TOURS AND GROUP DISCOUNTS are not available during the Fall Color Tours. Please see our Tour Groups web page for other events all season.
We do not have a depot building in Tecumseh. See conductor for "will call" or lost tickets.
---