2019 Group Tours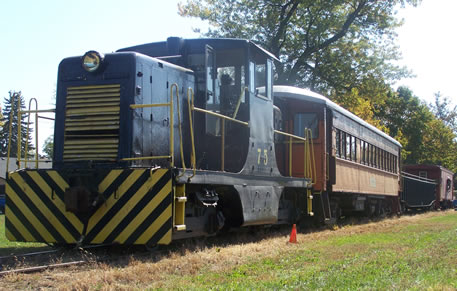 Bring your group on the only preserved heritage railroad in Michigan.
Ride from the historic town of Clinton through the countryside to Tecumseh. Check out the view as you cross the Red Mill Pond on a trestle.
Our historic South Shore coach #1 seats 64 people and we can give you a fraction of the car or the whole car. Smaller groups may reserve the entire caboose #21692, which ran on this very line and seats 20+. We generally do not offer the open-air car to groups due to risk of weather.
The train will be pulled by one of the first diesel engines ever made, dating to World War II.
We have a variety of options for your ride. Depending on your ride, it takes about 1 hour and 40 minutes, including a 10-15 minute layover at a midpoint location with bathrooms. Some options include spending a bit of time in lovely Tecumseh, which can whet their appetite for a later visit. Tecumseh is the nicest real downtown in Michigan -- chock full of craft, hobby, antique and specialty food shops, plus a coffee shop, ice cream shop, and a four star restaurant. (Every one a beloved, locally-run small business, no Starbucks here!) Best of all, it's all located within a city block of our train stop, so you won't have to worry about your guests wandering too far.
With special arrangement and extra fee, your group can "lay over" two additonal hours in downtown Tecumseh so your party has time to dine, shop and antique.
Make your reservation today.
Just contact the business office to discuss available dates and times. We need an estimate of the number of passengers you reasonably expect. Once you pick a date, we will need a $200 deposit in order to hold the date and seats for you.
And ... Join our email list!
We keep a special email list just for tour group operators. Mail goes out infrequently (we don't spam you). Join here.
Location:
Speak to us about your event. But your train will typically board at one of two locations: Our Clinton museum at 320 S. Division St., Clinton, MI 49236. This is on U.S. 12, just west of Ypsilanti and Saline.
Or the heart of downtown Tecumseh at M-50 and North Evans, in the middle of dozens of shops and restaurants.
Dates and Times:
Contact us for 2018 dates and times as we are still in planning stages.
Fares (ROUND TRIP):
Group fares are generally discounted off our regular fares, which can be found at the event's page. Advance deposits can be made by check, or by credit card (via a PayPal billing; our staff does not handle credit card numbers.) On-site settlements may be made by cash, check or credit card (via card swipe).
Frequently Asked Questions
Q: Can we bring the tour bus right up to the train?
A: Yes, our Clinton boarding area allows a tour bus to come quite close and unload. Bathrooms are about 200 feet away. No, our Tecumseh location does not permit this, nor do we have a designated place to unload. You will need to "catch as catch can" with street parking, though this usually isn't too difficult.
Q: Can we park the tour bus near the boarding spot?
A: Yes, in Clinton we have several places to park your tour bus. In Tecumseh the only bus parking sites we can offer are 3-6 blocks from the boarding location, though you can usually find street parking.
Q: How about weekdays?
A: That's the biggest question we get. We depend on all-volunteer crews and their availability is limited, because most are employed Monday-Friday. You can always ask, but most likely, we cannot crew the train.
Q: How about other Saturdays or Sundays?
A: Worth checking. Crews are somewhat more available on weekends. We still need to have a $1500 minimum for an operating day, split among the groups who have booked the day. We will market the date to other groups and the general public to try to ease or eliminate this for you.
Q: How about other times on days you are already running?
A: YES! We can usually add an additional run for your group.
Q: How about the Fall Color Tours?
A: This event is strongly discouraged for tour groups owing to our very limited capacity for that event, and logistical challenges at the location - especially during the Appleumpkin street festival. We're not holding out on you, we have tried, and it just hasn't worked. Please - book any of our other trains all year.
Q: What about Santa trains?
A: These are very short runs intended for the attention span of small children. The ride is more about the child meeting Santa. Probably not a good fit for an adult or senior group, as they will find the train ride far too short, and Santa's knees might not bear it! But if you have a children's group, give us a call. Work with us early, like all the other Santa trains in the region, it sells out early.
Q: I'm a really bad tour operator. I plan to show up, not know what to do or where to go, and sit waiting with a busload of unbathroomed, addled, mobility impaired seniors I need you to babysit. Is that gonna work? [we're not kidding, that actually did happen - in the middle of an Appleumpkin, to boot!]
A: Nope. You're going to have a really bad time, and so are your guests. Handling senior groups is not our core business and we don't have a "system" in place for it. It's a lot like taking them to a restaurant - you can't expect staff to give you a lot of help. That's what you need to bring. Same rules as everyone else: the train is for riders who arrive on time, fit and ready to take a train ride. If you are not ready by the time we must depart, that is on you. There are plenty of other things to do in Tecumseh!