2021 Summer Tours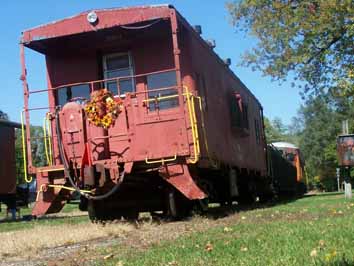 Come ride the train this summer on the Southern Michigan Railroad!
New location!
In 2021, trains depart from Clinton's south site on Bartlett Street. This is just down the road from the former Clinton stop.
Masks required
We are happy to be open again! However we must follow county health department, FRA and TSA rules. This includes reduced seating capacity in non-private cars, and MASKS REQUIRED in non-private cars per TSA. Upside, they won't make you take your shoes off... downside they are inspecting heritage railways, and are leaving enforcement to OUR ALL-VOLUNTEER STAFF. So please don't hassle our volunteers - we have to do it!ß
The ride
Ride from the historic town of Clinton through the countryside to Tecumseh. Check out the view as you cross the Red Mill Pond on a trestle.
Reserve a seat historic
South Shore coach #1
i, which carried commuters into Chicago from 1926 to the 1980s. The
open-air gondola car
will also be available for reservation! Or you can book a
caboose
that ran on this very line!
The train will be pulled by one of the first diesel engines ever made, dating to World War II.
Ride the car you book
Directly book the car you ride in. Be sure to check other cars - if your car is full on your date, check other cars! Many people choose historic Coach #1. No worries on booking the open-air car - seats in that car are refundable for weather.
You can also book the entire Memorial Caboose exclusively for your party. The caboose seats about 18 at windows, plus another dozen or so seats which are not at windows. We are working to open a second, smaller caboose with a cupola - so stay tuned!
It's the easiest way to pay with a credit card and assure you a seat. But don't worry, you can walk up too! Tickets will appear on your credit card statement as Fareharbor.
Operating Dates and Times:
Ride from the Village of Clinton, Michigan on U.S. 12, just west of Saline and Ypsilanti. Board at 301 Bartlett Street, Clinton, MI 49236. (directions here) Turn at the Comerica bank and follow the tracks 7 blocks.
Fares (ROUND TRIP):
Adult (age 13-64) -- $20
Youth (ages 2-12) -- $10
Senior (age 65+) -- $15
Babies under 2 -- no ticket needed.
Whole Caboose Rental -- $250
Seats in the open-air gondola only are refundable for weather - rain or temperatures under 50 at train time - whether actual or expected in the next-day weather forecasts. One refund per customer per season - do not book multiple dates. Call or email for refunds within 48 hours of train time.
Mobility limitations? Please see our Accessibility page.